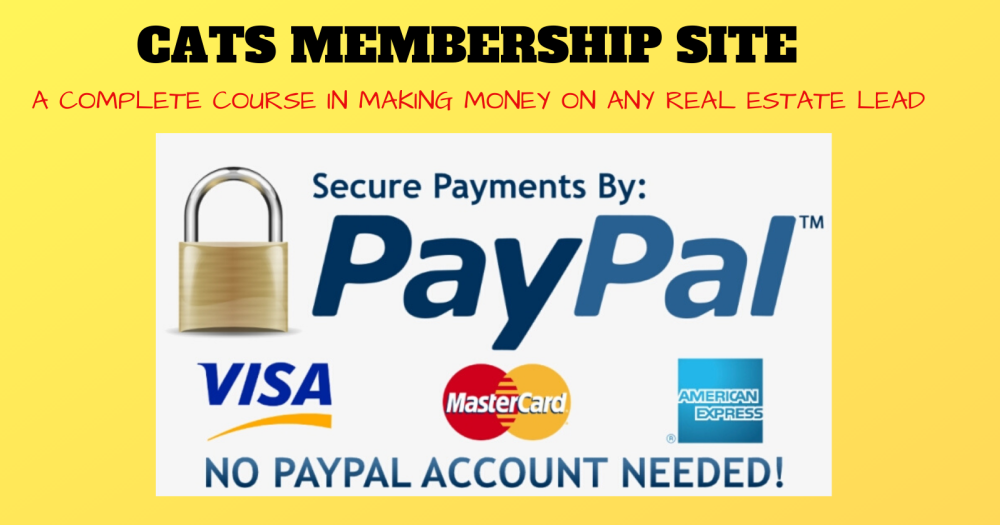 So what is this CATS thing?

Jon & Stephanie Iannotti created the ACT (Agreeable Contract Terms) concept.  This concept that they developed, has been taught to thousands across the country & Canada and worked great coming out of the Greatest Recession of all times.  But the market quickly changed, and so did 'The Iannottis'.  They started doing another concept they developed, called REACT, (Reversed Engineered Agreeable Contract Terms).  This technique along with the ACT technique is what 'The Iannottis' put together to make  CATS or (Complete Agreeable Transaction System).  Now any lead that comes across their desk, their Members should be able to make offers on all of them, including full retail or more deals!

Change Your Life Now!

Ok, so by now you should have an understanding of what the Iannottis are trying to do here.  Change Your Life!  They are not looking to sell you something that will get you to a certain point and then you will have to buy some more info or products.  Then you can get to another level and need more training and buy some more from them.  You Know The Routine!  That is not what The Iannottis are about!  They are about giving you exactly what you need to be successful!  They don't want to put you in that 'Hamster Wheel of Spending'.  You know, once you get into the wheel, you don't get out until the Guru has sold you everything they have to sell you.  Then tens of thousands of dollars later, you still are lost and not making any money!  You get what you will need to go out and make money.  Of course you have to do something to start the motion.  They call that 'Pulling the Trigger'.  If a student/member does not pull the trigger, then of course, they should expect to not make money.  The Iannottis love to see their student/members succeed.  They thrive on it!

Are you going to be their next success stories?

The goal of any investor who wants to take their investing business into the stratosphere is to assemble a team of people who perform all of the functions of the real estate investor.  Once this structure is set up, the investor can concentrate on creating more wealth.  This is what the Iannottis call going on "Cruise Control".   You improve your chances of success greatly by using Jon and Stephanie Iannotti's CATS method for Real Estate Investing!

What does the CATS Package Include?

The CATS Manual

MP3 Audio Recordings

Resource Documents Download

Free LIFETIME Updates

Free Videotaped Live One Day Event

4 Day Workshop Included

One Hour Jump Start Call

Free Monthly What Would Jon Do Call.

Training Materials

Recorded Live Seller Calls

Learn from the creaters of ACTS and REACT!

Potential to produce Thousands of Dollars on your first deal